Wednesday, November 29, 2006
I Hate the Lodge
I like it better when it was a tavern and not a lodge, when it was accessible to everyone with its history still visible. Now only the wealthy can go inside and history has been rewritten so that it seems that it was always a
lodge
.
Notice how they refer to it being the Monte Sano Lodge in 1939 and not a tavern. We wouldn't want the good Christains going to the lodge to think that it used to be a tavern now would we. Heavens no they wouldn't want them to think of all the devil's brew that was consumed there and the debauchery that went on.
Before 2004 it was the ruins of a
tavern
.
Before the lodge was built it was free to go hiking and biking on Monte Sano. Now there is an honor box requiring $2 a person on a weekday and $3 a person on a weekend day. This is fucking absurd. Why should the people that go up there to enjoy the "free" outdoors have to pay for a freaking building built for businesses to entertain their clients. It appears that they should be making enough from renting out the lodge to pay for the lodge.
|
One Mile Challenge
The OMC has been delayed for awhile because I have a sprained ankle.

|
Tuesday, November 14, 2006
One Mile Challenge Day Whatever
I sprained my ankle last week playing ultimate. So I'll start all over from day one when I recover in about 6 weeks.

|
Tuesday, October 24, 2006
One Mile Challeng Day 3
I blasted my quads in the gym today, so I didn't do any running.

|
Thursday, October 19, 2006
The One-Mile Challenge Day 2
Ran 2.4 miles in 16:51.

I was shooting for 7 minute miles, so I was a little off the pace I wanted. Meh, close enough.

|
The One-Mile Challenge Day 1
Ran a mile best effort: 5:50.

That's better than I expected actually. I tried to pass myself most of the first 3/4 mile. Then went as hard as I could the last 1/4 mile.

|
Tuesday, October 17, 2006
The One-Mile Challenge: Day 0
I got the idea to train to be able to run 5 minute mile from an editor of
Men's Health blog.
I'm going to post my training schedule and results on this blog (hell it's not being used for anything else), the same as the guy above. I don't even know if I can run a 5 minute mile. The best I ever had recorded in high school was 5:24. We'll just have to see. At least it will be a good way to gauge if I'm getting faster or slower as I'm getting older.
|
Friday, July 07, 2006
I Love Big Steak!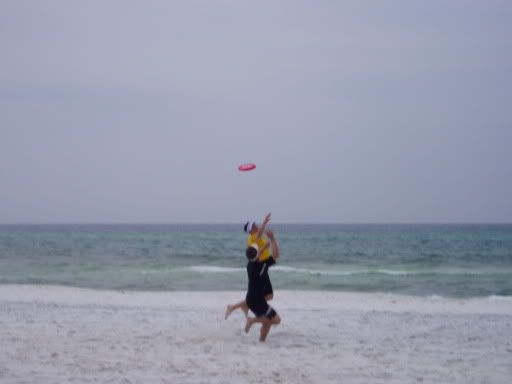 |
Thursday, January 19, 2006
A New Development Project in Huntsville
Huntsville, Alabama
"This is almost like an oasis in the state of Alabama." -Governor Bob Riley.
Overview of "The World Famous Bridge Street Town Center"(from the developers website)
Located in Huntsville, Alabama, this $210 million development will include approximately 2,000,000 square feet of retail, restaurant, entertainment, office, hotel, and residential space. Our location is nestled in the heart of Cummings Research Park, the 2nd largest research park in the United States and 4th in the world. The project is anchored by the luxurious Westin Hotels & Residences as well as Regal Cinemas.
Although it is one of the oldest cities in Alabama, Huntsville now calls itself the "space capital" of America. According to the 2005 Salary.com report, Huntsville rocketed to the #2 "Salary Value" city in the nation. Huntsville boasts a dense population of highly educated people, including the highest concentration of engineers in the country, at 7.2% of the work force. It also received the distinction of being voted the 6th best place to live by Forbes Magazine. Huntsville citizens enjoy the 4th highest average salary of any MSA in the Southeast USA. "Huntsville may be one of the most underserved, affluent markets in the United States," said Gary Safady.
---------------------------------------------------------------------------------
Website:
www.bridgestreettowncentre.com
I have mixed feelings about the development myself. On one hand it sounds cool to have a European social type atmosphere to go shopping and eat. I just hope they have a few cool bars too. A brew pub would be awesome, even if it was part of a chain. On the other hand do we really need yet another mall type place to shop? Though the outdoor European shopping experience sounds cool in theory, it in fact will be very fake and plastic feeling. Instead of building this massive fake town center, why didn't they revitalize the already existing downtown, that has a great deal of potential to be an excellent "real" town center.
|